Launch for Lauren DiCioccio
Saturday, March 31 between 11:00 AM and 5:00 PM
The Workshop Residence
833 22nd Street
San Francisco, CA 94107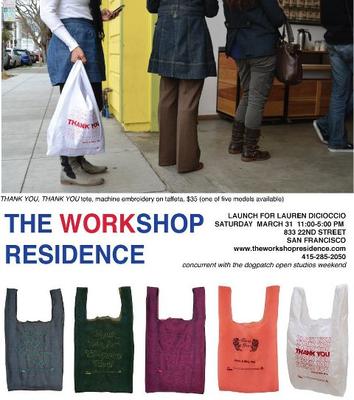 The Workshop Residence invites you to join us for the opening for resident artist Lauren DiCioccio Saturday, March 31 between 11:00 AM and 5:00 PM

Lauren DiCioccio's intricate embroidered objects investigate the beauty of mass-produced media-objects facing obsolescence: the newspaper, magazines, office papers, and plastic bags. Her work has been shown at The Yerba Buena Center for the Arts, The Bellevue Arts Museum, and Jack Fischer Gallery. In 2011, she was a resident at Recology San Francisco.

Lauren's residency explored methods of returning function to her finely detailed embroidered objects and results in a collection of machine embroidered tote bags made in the SF Bay and available for sale through The Workshop Residence.