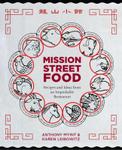 Anthony Myint, chef at the Mission Bowling Club, is not satisfied with helping to raise $125,000 for the San Francisco Food Bank — he wants to run a portable restaurant inside of the giant building.
In a post on the Mission Street Food blog he says:
For the last two years, Mission Chinese Food has been raising money for the Food Bank: more than $125,000 so far. But we could do even more. I've been sketching plans to serve food inside the Food Bank itself, in their warehouse, as a kind of a hybrid between restaurant and fundraiser. The warehouse is pretty exhilarating to behold with immense skylights and massive aisles of produce and 2,000-pound bags of rice being mobilized for distribution across the city. There's a space in the middle that clears out around 6pm each day and could probably fit a kitchen on wheels and about 20 seats, and though it's just a swath of concrete in a warehouse, I think it could be home to an extraordinary restaurant.
Helping out is kind of a hassle: in order to cast a vote for them to get a grant you have to have a facebook account and allow the Chase- and Livingsocial-run site access to the account. Then you have to search for "Mission Chinese Food" and click some stuff. You're smart, I'm sure that you can figure it all out, but then the grant provider then doesn't give you any pages to read to figure out what you just did and when you can expect to see results.
Myint also says:
Note: this is a Mission Street Food project, and is not related to Mission Chinese Food, but the application process was clunky, not very clear and, as it turns out, uneditable. So please help us get this grant by searching for "Mission Chinese Food," and encourage your friends to do the same.
Click here to get to the Mission: Small Business site:
https://www.missionsmallbusiness.com/
The Food Bank is a pretty awesome charity, and you should give early and often:
We turn every $1 you donate into $6 worth of food
As a side note, Mission Street Food delivers to Dogpatch for a small fee.