July 22 11 a.m. to 4 p.m.
Sunday Streets / Bayview Music Festival
Bayview/Dogpatch
You have just three weeks to get your mobile dance party adult tricycle set up!
No word yet* if local band Dogpatch will be playing in Dogpatch anywhere, but last year they played in front of Rickshaw. Here they are playing at a different Sunday Streets this year:

SF FunCheap says:
Come to the Sunny Side of San Francisco and enjoy the 2012 Bayview Music Festival at Sunday Streets on June 12 from 11am to 5pm. Get out [of] your car and get on your bike, roller skates or just walk. The streets will be closed so come on out and join the fun.

This year they'll include Circus Bella, a BBQ Cook-Off, a Shrimp N Grits Cook-Off, and plenty more fun for the whole family.
That's mostly cribbed from the Facebook page:
2011 SUNDAY STREETS & BAYVIEW MUSIC FESTIVAL
Sunday, July 22nd, 2012, in The Bayview

The San Francisco Municipal Transportation Agency (SFMTA) will present the 2010 Sunday Streets program, with leadership support from the Mayor's Office and logistical support from City departments. The SFMTA is proud to present this outstanding program and provide San Franciscans with the opportunity to play and socialize safely on the streets within their communities.

Also In Association with:
Renaissance Entrepreneurship Center
3rd Street Corridor Project
Bayview Merchants Association
Bayview Opera House
Bayview YMCA
DPW
Mayor's Office of Neighborhood Sevices
San Francisco Housing Development Corp.
San Francisco Police Department (Bayview Department)
San Francisco Fire Department (Station 49)

Activities:
Bike
Skate
Walk
Live Music including Blues, R&B and Gospel
Soul Food Cook Off
Vendor Booths
Pet Grooming
Kid's Activities
Fitness and Yoga
Team Sports
Health Screening
Community Based Organizations information tables
James Moore, Third Street Corridor Manager says:
Please be our guest at the 2nd Annual Bayview Music Festival on Sunday, July 22nd in conjunction with Sunday Streets, an event sponsored by the Mayor's Office of San Francisco. The Bayview Music Festival's focus is to bring a community-wide celebration of the Third Street Corridor: where resident families of the Bayview share with neighboring families to partake in healthy family friendly activities such as biking, roller skating and walking the Third Street Corridor.

Other features include a variety of local food and retail concessions, arts and crafts, community based organizations, health and wellness booths and more.

The festival will have an all-star line-up of blues, rock & roll, Latin, Old School R&B and Neo-Soul artist from around the bay that you are sure to enjoy. This line-up of artist is one of the most unique and diverse that is difficult to find in most festivals.

Your participation will promote a more united Bayview and help to engage and inspire the broader San Francisco community.

Sunday is Fun Day…
so come join us! Count Me In!
Sincerely,

James Moore
Third Street Corridor Manager
The Third Street Corridor Project says:
If you would like to be an exhibitor or sponsor [in Bayview], please contact us at 415-647-3728.
Recchiuti Confections says:
Join Michael as he offers a sneak peek at the new Chocolate Lab cafe – due to open this September. Come see the progress and watch as Michael demonstrates spin art on edible chocolate tiles. The handmade tiles will be available for sale at the Little Nib just down the street.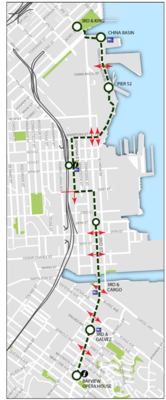 More details will be posted as they arrive. Beth from Livable City is presenting Sunday Streets at the DNA meeting on July 10th. Yes, I suppose that I should go.
* Just rumors