When I was trying to get the final word on when my apartment building was constructed, I found that prior to 1891, I couldn't find any house numbers on Tennessee, and nearby buildings were addressed in relation to Sierra and Nevada.
From 1886 Langley's San Francisco directory:
Swan John, groceries and liquors, SW cor Tennessee and Sierra
That's the "Swan Building," now (briefly) home to Lemon Twist.
Sierra, though? Nevada?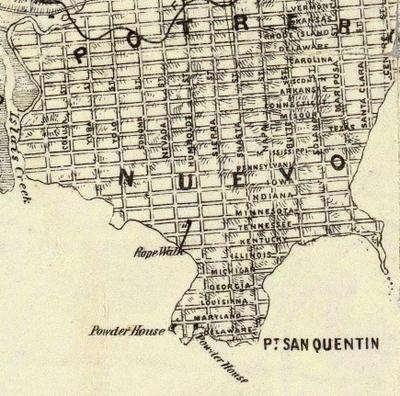 After hours of bleary-eyed paging through scans of city directories and maps from the late 19th and early 20th centuries, I came up with the following list of mappings:
Alameda Street still exists.
El Dorado Street is now 15th Street.
Center Street is now 16th Street
Santa Clara Street is now 17th Street.
Mariposa Street still exists.
Solano Street is now 18th Street.
Butte Street is now 19th Street.
Napa Street is now 20th Street.
Shasta Street is kind of a mystery — some maps show it, some don't. It lines up with 21st, which doesn't exist in the Dogpatch.
Sierra Street is now 22nd Street [edit: except for one block between Texas and Missouri — thanks, Glenn!]
Humboldt Street still exists.
Nevada Street is now 23rd Street.
Sonoma Street is now 24th Street.
Yolo Street is now 25th Street.
Yuba Street is now 26th Street.
Colusa Street is now Army Street / Cesar Chavez
Marin Street still exists.
Tulare Street still exists.
Langley maps from 1861, 1873, and 1890 show the old names, but Sanborn Fire maps from 1905 show numeric street names. Boo!
Interestingly, in 1909, many San Francisco streets got changed from numbers to various other things. Burrito Justice has that story.
In any case, I think that in 1886, a "Catherine Sullivan" was living in my building or a building next door. Since a "Thomas Sullivan" built this set of three, that implies that my apartment is from 1886 or 1887.
From Langley Directory again:
Sullivan Catherine, widow, r. W s Tennessee, bet. Sierra and Nevada