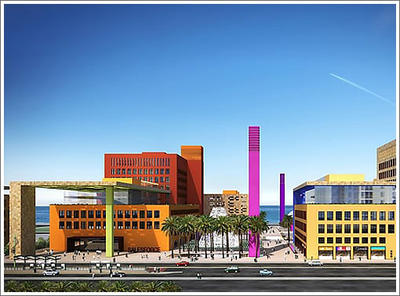 The Examiner says:
Benioff rejected the notion that it had been a lavish, out-of-control venture.
and
The campus was to be situated directly across the street from another project Benioff was deeply invested in: The University of California, San Francisco Benioff Children's Hospital, which took that name after Benioff and his wife Lynne donated $100 million in 2010.

"There was a lot of momentum with the campus – the pictures, and the graphics, and the approvals," Benioff said. "Every time we got one more approval, we kind of always came back and said, 'Is this a good idea? This is a good idea.' Let's keep going."
I'm pretty sure that it wasn't a good idea.
If the City wants my advice*, it is this: figure out how to get the folks who run the American Industrial Center to build and manage office space on that site. We don't need monolithic campuses to serve single entities, we need 1000 small companies and the service industries that would support them. Big companies build cafeterias**; small companies go out for lunch.
* I'm pretty sure that the City does not want my advice.
** "The Rosebud Café" would be an excellent name for Salesforce's cancelled cafeteria.