Sharp eyed reader Craig reminded me that Bon Appétit had recently posted about our fair neighborhood. Even better, Bon Appétit is a real life dead-trees-based magazine, out in that terrifying world.
Examine Just For You's blatant copyright infringement via scanned pages: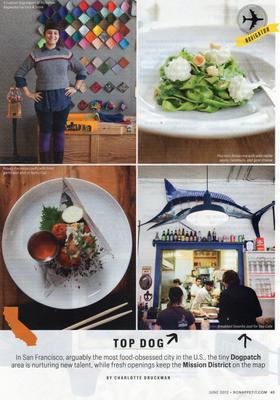 Anyway, if you can't be bothered to pick up a hardcopy, you can read it for free on their website.
Bon Appétit says:
Members of the breakfast club swear by the Hangtown fry at Just for You Cafe. This no-frills diner, decorated with punk-rock posters, is one of the city's most beloved morning pit stops. Some folks go straight to dessert and fill up on the New Orleans-style beignets, tucked under a blanket of powdered sugar.
Has Just For You always had a marlin over the kitchen? I don't remember it. Maybe I should stop in for lasagna after work tomorrow to check.
The article does mention other neighborhood eateries, but I was recently chastised for using the G word too often.