Ray Sumser – The Characternity and Other Funny Pictures by Ray Sumser
Opening Night: Thursday, June 7th, 2012
Showing Through: June 28th
Treehouse Gallery (facebook)
2604 Third St.
San Francisco, CA 94107
Dig In Mag has an interview with the artist.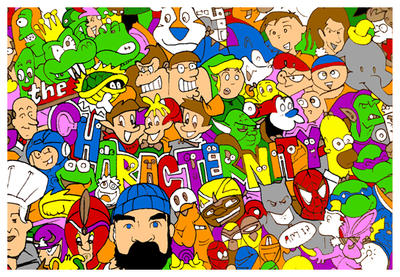 The Characternity and other Funny Pictures by Ray Sumser – a month long installation of this Bay Area Native's iconic work in paint, drawing, print, digital and more. See the mind-boggling 9′ oil painting of 1,500 recognizable pop culture characters, the 12′ Nude Starbucks Interior vista, the final throw down between Super-Man and God, kaleidoscopic psycho-spiritual mind maps and more. Come to events through June including a BYOT T-Shirt making party, Ukulele night, Free Comic Book Day, Collaborative Painting and a Print Release Party. Proudly presented at Treehouse Gallery, Dogpatch SF's landmark gallery destination.

Raymond J Sumser grew up in Marin, graduated from the Rhode Island School of Design (07′ PAINT/FILM) and was a founding member of the Tannery Arts Center in Santa Cruz. His work has been show around California, and his prints hang in 17 countries. The artist recently completed a successful Kickstarter Campaign to fund his newest creation, the Cartoonuum.

Event Calendar:

6.7 Th 7pm – Grand Opening – first 50 receive door prize!
6.8 F 7pm – Game Night – ft. NES Duck Hunt, N64 Smash Bros
6.8 S 7pm – T-Shirt Making Party – BYOT
6.9 S 3pm – Collaborative Painting Afternoon
6.13 W 5pm – Wednesday the 13th! Intrigue!
6.14 Th 7pm – Ukulele Night ft Steffy Sue and UkuleRay
6.21 Th 7pm – Free Comic Book Day – ft SPIDER-MAN Paintings
6.22 F 7pm – Kickstarters Only Event – with Open Bar
6.23 S 7pm – Costume Party – Prizes for best Outfits
6.24 S 3pm – 800 Drawings – Interactive Installation
6.28 Th 7pm – Gallery Closing – ft the ABSTRACT Showcase

Private Events and Showings Available.
Gallery Hours Wednesday through Sunday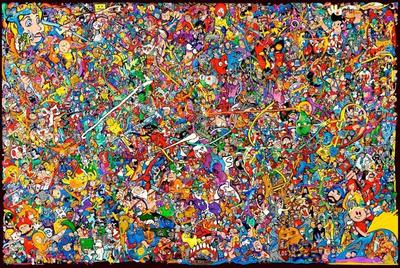 It looks like the Kickstarter for Characternity was not successful — it didn't reach the minimum by the deadline — but hooray for Ray for getting it done, and what a great month of events to go with the work! Ukulele night? Yes.