Pier 70: In Its Own Words
Opening: Wednesday, Aug 15 6:00pm
Work showing: August 15 through September 9, 2012
Gallery Opening with Art by Wendy MacNaughton
Dogpatch WineWorks
2455 Third Street
San Francisco, CA 94107
(415) 593-4221
Thursday/Friday: 4-8pm, Saturday: 12-5pm, Sunday: 12-5pm
It's a little late to get to the opening, but the work is still up in Dogpatch Wineworks. It's mounted a little high on the wall for close perusal of the watercolors, but maybe that's so you're not tempted to pull them down and slip them into my mail slot. There's nothing groundbreaking, story-wise — all the basic Dogpatch facts are there. I'm just sad there isn't more!
I don't know why the developers commissioned this work (assuming that is exactly what happened), but I approve and hope that this can get published either in small-press form or on the internets.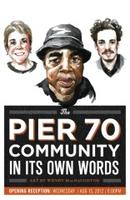 Understanding the history and culture of communities is essential to building new places that feel authentic and alive. Forest City, creators of the 5M Project, are making the next evolution of place at Pier 70. IN ITS OWN WORDS is a visual story depicting the history, communities, character, and identity of Pier 70 and the Dogpatch.

Join us and the artist, Wendy MacNaughton, to see her story and share your own.

About the Artist:

Wendy MacNaughton's work has been featured in places like The New York Times, Juxtapoz, and Print Magazine. Her illustrated documentary series "Meanwhile, San Francisco in Its Own Words," published originally in The Rumpus, is being made into a book by Chronicle Books. She has illustrated two other forthcoming books: Lost Cat by Caroline Paul (Bloomsbury, 2013) and The Essential Scratch & Sniff Guide to Wine by Richard Betts (Houghton Mifflin, 2013). Wendy is a Staff Illustrator at Longshot Magazine, a contributor to Pop-Up Magazine, and is the 2012 artist in residence at Intersection for the Arts.